Even otherwise good health of pregnant women can become very sick if they get flu.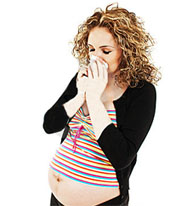 One large study, which examines the impact of influenza on pregnant women for 17 flu season, has shown that pregnant women in third quarter are equally likely to be hospitalized for a heart and lung uzrokvane flu as ii women with serious chronic medical conditions who are not pregnant.
The risk increases as more štrudnoća progresses. Women who were in the 37th to 42 Week of pregnancy were almost five times more likely to be hospitalized than women 1-6 months postpartum. Also pregnant women with asthma are at particular risk. Particularly dangerous and harmful for pregnant women showed pandemic H1N1 influenza virus that is still circulating.
Because of these results, the Center for Disease Control and Prevention in the United States recommends that women who are or will be pregnant during flu season, get a flu shot.
Will the vaccine help against the flu?
Most experts believe that the flu vaccine to provide protection for a pregnant woman and her unborn baby.Despite previous research, it showed that the small benefit of vaccination of pregnant women, recent studies have pointed to increased protection of pregnant women and her unborn baby when the mother is vaccinated against influenza. Also shown is the reduction in infant hostpizalizacije flu season whose mothers were vaccinated, and reduce the number of infants born prematurely is too little weight.
Is the flu vaccine safe for pregnant women?
Because the flu vaccine contains inactivated and live virus experts believe it is safe for pregnant women. Studies have found that there was no increase in malignant disease in the fetus if the mother is vaccinated against influenza. Recent studies show that there are no serious side effects of influenza vaccine during pregnancy or during the first 6 months of age.
Although the number of patients in these studies is relatively small, the results are encouraging.
What do doctors think?
The vast majority of experts believe that flu vaccine can take at any stage of pregnancy. If you are pregnant, be sure to consult with your doctor about flu vaccine.